Lakewood Belmar Sandwiches Menu
Tasty Toasted Sub Sandwiches
All Sandwiches Come With Your Choice of Bread and Toppings
Toppings:
Lettuce, Tomato, Onion, Pickles, Hot Pepper Mix, Banana Peppers, Jalapenos, Black Olives, Italian Seasoning, Pepper, Salt, Oil, Vinegar, Mayo, Yellow Mustard, Dijon Mustard
Bread Options: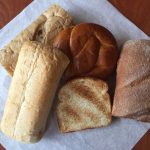 White Baguette – 6″ or 8″(+ $2)
Wheat Baguette – 6″ or 8″(+ $2)
Udi's Gluten Free ($)
Pretzel Roll ($)
All Salads Come With Your Choice of Dressing
Ranch, Bleu Cheese, Italian, Caesar, Poppy Seed Vinaigrette, Tangy Vinaigrette
Milkshakes The Old-Fashioned Way
We hand scoop our ice cream and blend the shake right in front of you.  Add malt or peanut butter to make it even better!
Everything You Need to Complete Your Meal
We offer an assortment of chips, desserts and drinks.
In addition to fountain drinks, we also carry a variety of bottled beverages including energy drinks, sport drinks, flavored iced teas and juices.